Pros
Fast
Market + forum
2FA
No JS
Cons
No auto-withdraw after a certain threshold or time limit
FE only for trusted vendors
Nemesis Market Review
When it comes to the darknet markets, if you're in operation for more than 2 years, you are entitled to be called a veteran. Nemesis is one of the rare examples of such relics.
Considering that it is one of the most accessible and open marketplaces on the contemporary dark web landscape, its longevity seems almost miraculous. Let's try to explore the secret behind it.
Official website: https://nemesismarket.org/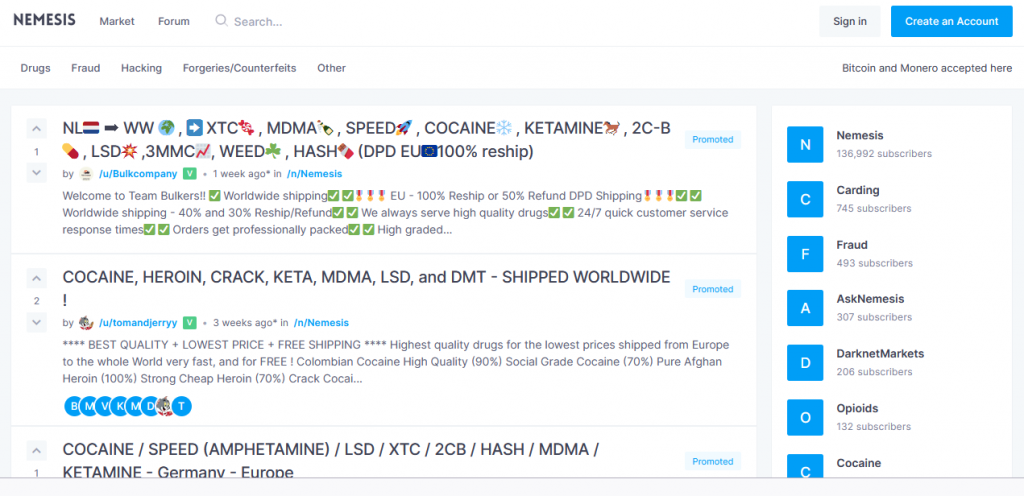 Nemesis Market Overview
General Info
Established
2021 (new version launched in March 2021)
Specialization
All-inclusive (with an emphasis on drugs, fraud, and digital products)
Harm reduction policy
Incorporated (but a 'self-defense' category is still present)
Current state
Active
Escrow: Traditional Multisig


Finalize Early (FE)
Yes (only for sellers with > 100 positive reviews)
Wallet-free payments (direct transfers)
Yes
Accepted cryptocurrencies
Bitcoin (BTC) & Monero (XMR)
Safety Measures
PGP, canary, and mirrors
Available on the official website
2-factor authentication with mandatory PGP encryption
No
Mandatory PGP encryption
No
Strict vendor selection policy
Yes ($200 non-refundable vendor bond & established reputation on other markets)
Nemesis Market URL
Main onion URL:
The marketplace is unprecedentedly effective in combating DDoS attacks. Whether it is pure luck or the admin's skillful management, the site is always working smoothly. Therefore, if you take a look at mirrors.txt, you will find only the main link there.
Tips to Stay Safe
Hitchhiker's guide to the Galaxy suggests that any space traveler should have a towel to stay safe. Unfortunately, eluding traps in the deep waters of the dark web cannot be that simple.
You might think that the #1 rule is to trust no one. On the contrary, you need to have trusted tools, platforms, and sellers. However, if you wish to avoid calamitous consequences, you must verify everything and never reveal your identity.
These were the basics, now let's be more precise with the directions:
Before you access any darknet market, Nemesis included, check that you have the Tor browser, a VPN service provider with a 'no-logs' policy, a trusted PGP client, and a private enough digital wallet. Of course, you also have to learn how to use these instruments correctly.
Never open a link from an unreliable source. Nemesis is a discrete portal. Therefore, you won't find its mirrors on common platforms, such as darknetpages.com, dark.pe or darknetonion.com. However, you can still turn to them while visiting other markets.
It's time to initiate the registration process. Generally, it is pretty straightforward. Yet, you need to keep in mind that your username, password, and withdrawal password should not contain any traces of your real-life persona.
The same rule applies to your profile info and communication style. Pretend that you're a spy on a mission: don't even hint at your true identity.
You should build a wall between your casual browsing and darknet activity. You might even want to install a dedicated operating system with enhanced privacy capabilities, like Whonix or Tails.
After you complete the registration process, you'll get a mnemonic code. Put it in a secure place together with your credentials. If any trouble occurs, this is the only token you can submit to restore your account.
You don't want anyone to find out your personal details or that you're involved in illegal trading, right? Hence, even if the procedure might seem like an unnecessary complication after you log in for the first time you should go to your profile settings and set up PGP encryption.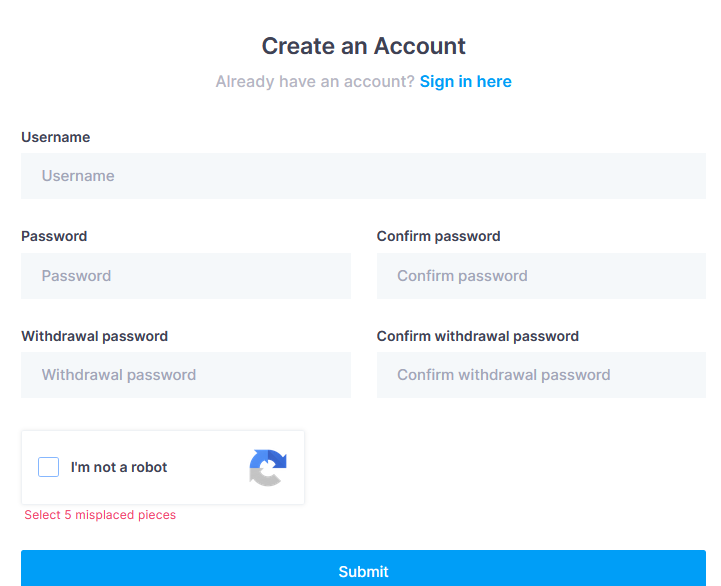 Navigating the Nemesis Market
Now, when the preparations and settings are left behind, let's take a look at the market. The first thing you'll notice is that Nemesis isn't just a trading space, it is a combination of a market and a forum. Instead of going to habitual communities like Reddit or Dread, you can discuss everything within the framework of one website.
Available & Banned Products
Despite being a relatively small and humble portal, Nemesis has some competitive advantages. It has a decent selection of drugs, but it also offers a wide range of digital products. Here you can find almost everything you need concerning cybersecurity and hacking.
It also exhibits a rare 'self-defense' category. Yet, when it comes to weapons, here you will find only 3D printable guns.
Plus, guests and passers-by can 'window-shop' to see if the product range satisfies their requirements before proceeding with creating an account. Still, remember that there are certain products that you won't find here because even darknet dealers should adhere to certain moral codes and dignity.
| | |
| --- | --- |
| Acceptable listings | Forbidden goods & services |
| Drugs (cannabis, benzodiazepine, stimulants, ecstasy, opioids, psychedelic drugs, dissociative drugs, prescription drugs, steroids, tobacco, paraphernalia, weight loss, etc.) | Child pornography |
| Fraud (cards/CVVs, carding, verified accounts, bank logins, hacked accounts, SSN/DOB/DL/PII, drop addresses, dumps, phone numbers/SIM cards, etc.) | Anything genuinely harmful to living creatures (e.g., assassination services, weapons, explosives, poisons, and acids) |
| Forgeries/Counterfeits (jewelry, clothing, currencies, electronics, artworks, documents, deep fake, etc.) | Fentanyl & related substances |
| Hacking (malware/botnets, exploits, ransomware, data for sale, phishing, hackers for hire, DDoS, spamming, scripts, hosting, etc.) | |
| Other (self-defense, real documents, guides and tutorials, cash to crypto, crypto to cash, custom orders, etc.) | |
Nemesis doesn't present its buyers with an extensive set of instruments to narrow down their options. You can either turn to subcategories or type exactly what you need in the search bar. But as you continue the mission to find your desired objects, pay attention to these details to avoid possible disappointment or confusion:
Description;
Available quantity & price;
Shipping methods and destinations (shipping from/to);
Accepted cryptocurrency;
Refund/return policy;
Rating & reviews;
When the vendor was last spotted online.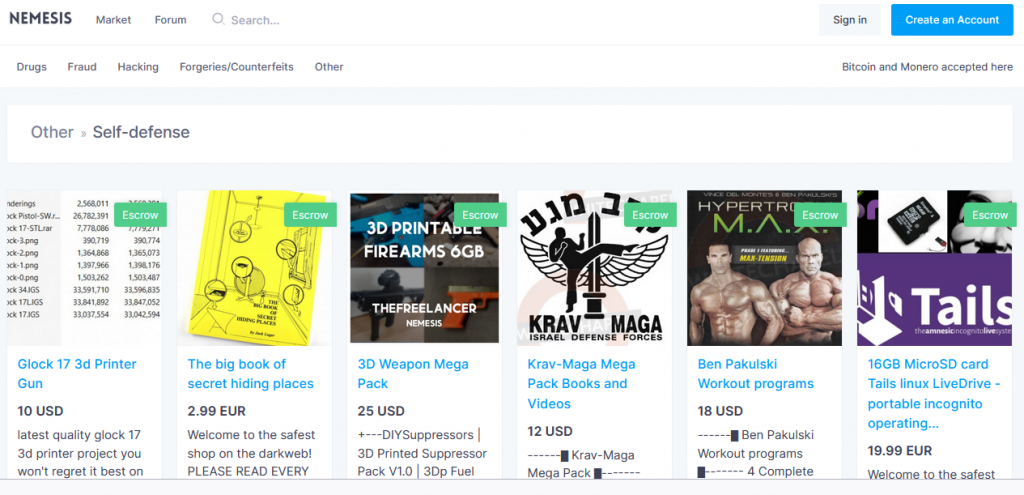 Placing an Order
So, you found what you came here for. Now, it's time to make a purchase. But don't rush into checking out. You have to make a couple of calculations first.
Nemesis employs a direct payment system. Therefore, before striking a deal, you have to verify whether your digital wallet has enough money to cover all the expenses. If you discover a lack of funds, you need to make a deposit. If you have a choice, Monero should be your preferred option because it leaves no traces of the parties' identities.
Now, it's time to start the procedure:
Add the desired products and services to the cart.
Proceed to checkout.
Fill in order details (it's always better to manually encrypt your shipping info).
Use a generated payment link to transfer the funds.
Wait until the seller accepts your order. It should happen within 5 days but if you don't have time or patience, you can cancel this order after 48 hours. In case you cancel, or the vendor doesn't accept, you'll get a refund.
Sellers have 5 days to ship your order. If they fail, you'll get a refund.
Your package should be delivered within the limits of the shipping method you picked.
If it doesn't arrive within this time, you can discuss the issue with your vendor. If the conversation turns out to be fruitless, you have 10 days to open a dispute.
Provided the delivery is on time, and you're happy with the package's content, you should finalize your order. Otherwise, your funds will be stacked in the platform's escrow account, and the seller will get the payment only after the order is auto-finalized after 10 (physical) or 3 days (digital).
When you pick a finalize early option, you should finalize the order after the vendor marks it as shipped. Naturally, you should agree to these conditions only provided that this dealer is trustworthy and familiar to you.
Nemesis Market Pros and Cons
No one is perfect unless they are imaginary friends or fictional characters. Hence, every human creation is doomed to have flaws. Let's explore Nemesis' shortcomings and beneficial traits.
| | |
| --- | --- |
| Advantages | Disadvantages |
| The product range is small enough to keep away hackers and scammers, yet wide enough to lure in new buyers. | Multisig escrow is not an option here, although it is more secure than the traditional escrow method (it requires 2/3 signatures from the parties involved – buyer, seller, platform – to move the funds). |
| The market and forum are merged into one platform. You don't have to turn to any external sources when you experience any issues. | 2-factor authentication with PGP encryption, which provides additional protection from unauthorized account access, is also absent. |
| Direct payment system shrinks your chances of suffering from exit scams to almost zero. | PGP encryption is present, but it's more of a recommended feature rather than a mandatory requirement. |
| You can check if the market is worth your time before signing up. | |
| A strict vendor selection policy protects members of the Nemesis community. | |
| There are no fees on the market, except for a 5% commission fee for vendors. Still, it can be reduced, provided the merchant is big enough to make that sacrifice. | |
| Generous referral program. | |
| The market permits payments in both Bitcoin (BTC) and Monero (XMR). | |
| A very peculiar captcha. | |
The admin's choice to stay distant from the renowned darknet communities, such as Dread, and create the platform's own forum is not exactly a positive or a negative characteristic. On the one hand, it helps in maintaining a low profile. On the other hand, its intractability impedes potential growth.
Essentially, if you browse the forum, you'll see demands like adding filters to sort orders or making the site multilingual. However, those are minor inconveniences that can be easily fixed.

Conclusion
Of course, there is always room for improvement. Still, if you are confident enough in your operations security knowledge and technical skills to protect yourself despite the lack of safety features, you should give Nemesis a chance. After all, it is one of the oldest market players.